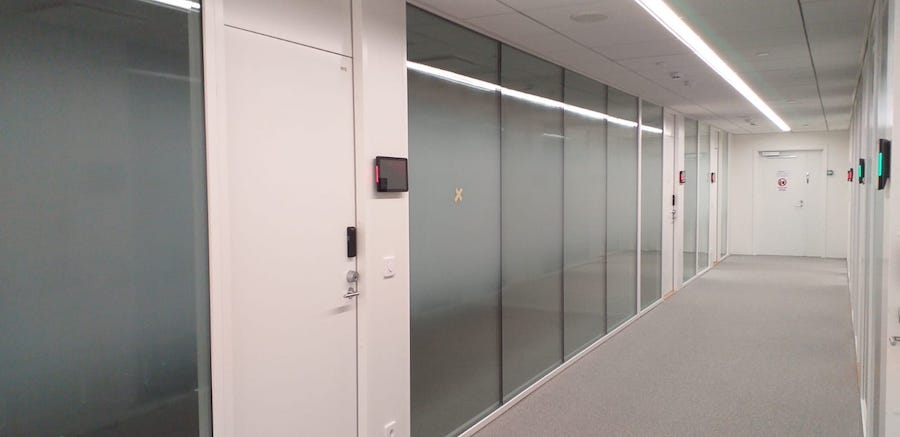 Earlier office property located at Tietotie 6, was basic renovated for the city of Espoo, into modern work spaces and for the use of an educational institution. After the change of purpose of use, the property offers 26 000 renovated squares for use of the city's different units. The project strengthens Otaniemi's spot as a point of education.
In the property operates at the moment, among others, Otaniemi's high school, which was born when North-Tapiola's and Olari's high school was combined. The new educational center offers modern work- and educational spaces, auditoriums and gymnasiums and brings together around 800 students.
Modern and transformable spaces
The aim of the interior space design was to achieve modern and bright spaces. This was solved, in terms of separate work spaces be implementing the walls of the corridor's side with HSL Group's wood framed glass walls that go from the ground to the ceiling. The sound insulated glass walls were implemented without middle frames, which highlights the wall's lightness and the modern look. Because of the high glass walls the corridor's light passes efficiently to the space, making it feel bigger than it's size.
The glass walls were equipped with doors, electric switches and the solid elements that were light shaded, according to the client's wishes. In the dividing of the spaces was also used HSL's white sound insulated solid partition walls, that were coated with a PP-coating. The walls and doors good sound insulation guarantees for the users of the spaces work- and study peace.
Because of their characteristics, modular transformation flexible partition wall systems are suitable for really demanding educational institutions, If the spaces are wanted to be arranged again in the future, it will happen quickly and dust-free. Partition wall systems and other space solutions are delivered with a lifecycle model, which means that the HSL Group's experienced professionals will, if needed, be in charge of the premises maintenance and transformation works, for the duration of the whole lifecycle.