Euroopan kemikaalivirasto ECHA Telakkaranta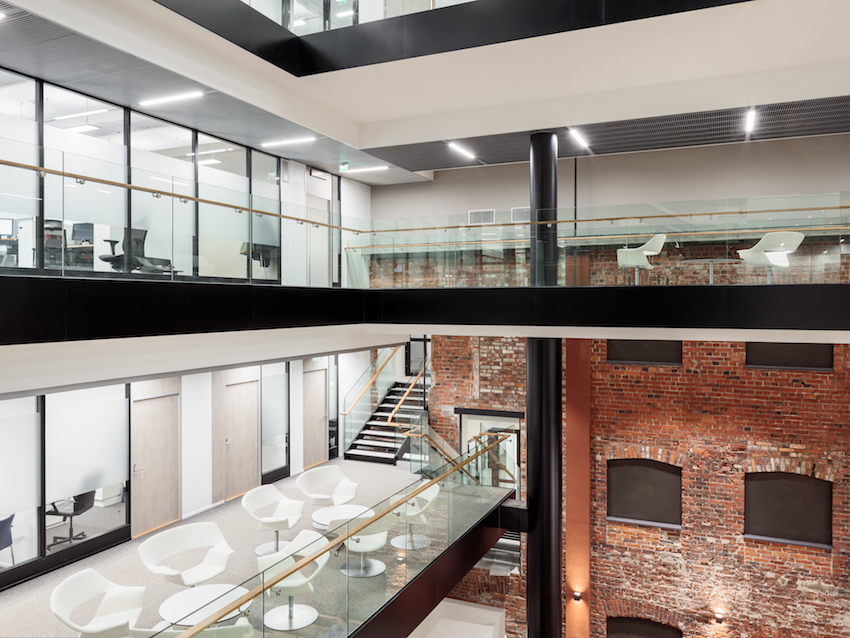 In Helsinki's Telakkaranta a unique office project was finished for the use of European Chemicals Agency's ECHA at the end of last year. In the property, the area's old protected buildings combine in a fine and a seamless way with the new modern building. The property's facade was wanted to sit well with the area's industry setting, and a lot of steel has been used in the facade. The old buildings red brick body is still on display on the building's facade and inside the building.
The office's transformation flexibility and sound management in a central role
The Atrium inside in the middle of the building, Is as tall as the whole building. Around it was built modern office spaces, in the design of them the main criterions were the sound management of the spaces, transformability and the possibility to utilize different furniture solutions.
In the offices sound management, the ceiling's wool blocks and the floor's textile carpets are utilized. The office spaces transformability from an open office to smaller spaces was solved with HSL Group's partition wall systems. Work peace and privacy is guaranteed according to the requirement's, by sound insulation graded walls and the decibel doors attached to them.
The property's partition wall systems grounds are dark shaded wood framed glass walls, white solid walls and doors coated with light wood veneers including electrical switches. The Atrium's light passes to the work rooms unobstructed because of the broad glass surfaces. The delivered structures repeat the inner spaces color environment, and they fit nicely together with the new modern part and with the old brick wall patinated by time.
Because of the module structure, the transformation of the spaces with the needs of the future is quick the required transformation works are done quickly and dust-free by the HSL Group's experienced professionals.